Senate confirms John Kerry, a foreign-policy buff who has Obama's trust
The Senate voted 94-to-3 to confirm John Kerry as secretary of State. He has Obama's trust and appears in sync with him on policy, but the president may be primarily focused on domestic affairs.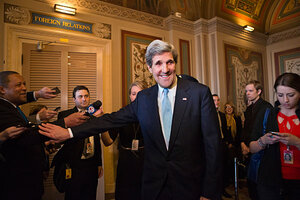 J. Scott Applewhite/AP
The Senate confirmed John Kerry Tuesday as President Obama's second secretary of state – granting Senator-turned-Secretary Kerry a nearly lifelong wish.
At the same time, Kerry's confirmation to take over for outgoing Secretary of State Hillary Rodham Clinton sparks questions about what the foreign-policy buff will be able to accomplish under a domestic-policy-focused White House.
Kerry sailed to confirmation on a 94-to-3 vote, just hours after the Foreign Relations Committee he chaired for four years recommended him to the Senate with a unanimous vote. The Massachusetts Democrat is expected to almost immediately take over from Secretary Clinton, whose last scheduled day on the job is Friday.
A smiling Kerry, who was on the Senate floor as the vote was taken, waved to his colleagues and acknowledged their applause as the results were announced. Voting no were three Republicans: Ted Cruz and John Cornyn of Texas and James Inhofe of Oklahoma. Kerry voted "present."
Sen. Charles Schumer (D) of New York prefaced a turn to other business by saying the Senate is "so proud" of Kerry, adding, "For John Kerry, the best is yet to come."
---