John Kerry speech: US must resist temptation to turn inward
Secretary of State John Kerry delivered his first major policy speech as the nation's top diplomat, focusing on broad global challenges such as human rights and climate change.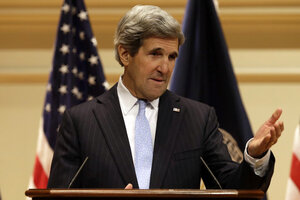 Steve Helber/AP
The United States risks losing the business and job opportunities of an expanding global economy, as well as the security that flows from promoting American values abroad, if America's role in the world falls prey to the budget battle now gripping Washington, Secretary of State John Kerry said Wednesday.
In his first major policy speech as the nation's top diplomat, Secretary Kerry said the US must resist the same urge to turn inward that tempted it after World War II. Instead, he said, it should lead in the global causes of the 21st century, ranging from economic prosperity and expansion of democracy to the addressing of climate change.
Speaking at the University of Virginia in Charlottesville, Kerry said he wanted to open a conversation with the American people about the essential role of US diplomacy in the world before setting off next week on his first overseas trip in his new post.
He started his remarks by cautioning that "our engagement with the rest of the world begins by making some important choices, together, about our national budget." It is "imperative," he said, that the US not cut back on what he characterized as an already minimal investment in diplomacy.
Kerry cited a recent poll that found most Americans assume the US spends about a quarter of the federal budget on international affairs – while they thought the right level of spending would be about 10 percent of the budget.
---