US-Japan leaders discuss trade, China, and North Korea
President Obama met with Japanese Prime Minister Shinzo Abe Friday. Major topics included Japan's joining a regional trade pact, North Korea's recent nuclear test, and a Japan-China territorial dispute.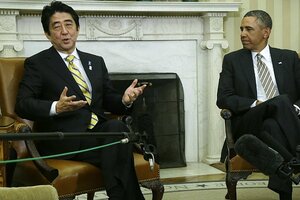 Charles Dharapak/AP
Domestic issues like immigration, gun violence, and looming across-the-board spending cuts may top President Obama's second-term agenda. But he hasn't forgotten his vision of rebalancing US security and economic priorities towards Asia – a priority he sought to re-emphasize by receiving Japanese Prime Minister Shinzo Abe at the White House Friday for lunch and talks.
Following a morning meeting with Democratic governors, Mr. Obama greeted Mr. Abe for discussions focused on East Asia's security challenges and expanding economic opportunities in the Asia-Pacific region – what White House officials describe as the two principle focal points of the pivot to Asia Obama announced at the outset of his presidency.
On the security agenda, the two leaders discussed the international community's response to North Korea's third nuclear test last month, and the maritime disputes in the East China Sea and South China Sea that have led to increasingly tense relations between China and several of its neighbors – including Japan.
---