Six months after Benghazi, Obama names Libya envoy. Who is Deborah Jones?
The White House said Obama was nominating Deborah Jones, a career diplomat and Middle East expert, as ambassador to Libya. She would replace Christopher Stevens, who was killed in Benghazi.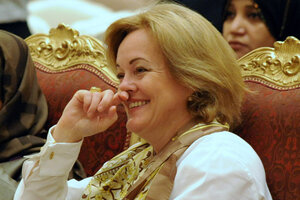 Gustavo Ferrari/AP
President Obama nominated a career diplomat and Middle East expert as the next US ambassador to Libya Wednesday, six months after a terrorist attack on the US mission in Benghazi, Libya, that took the life of Ambassador Christopher Stevens.
The White House announced that the president was nominating Deborah Jones, a former ambassador to Kuwait and currently a scholar at the Middle East Institute in Washington, to fill the vacancy left at the top of the US Embassy in Tripoli after Ambassador Stevens and three other American officials were killed in the Sept. 11 assault on the Benghazi mission.
If confirmed by the Senate for the Libya post, Ambassador Jones would take on a diplomatic position associated with both a success and perhaps the most searing failing of Mr. Obama's first-term foreign policy.
Faced with a looming bloodbath of Libyan civilians in Benghazi as forces of Col. Muammar Qaddafi closed in on the eastern opposition stronghold in the spring of 2011, Obama ordered US participation in an international intervention that checked Mr. Qaddafi's advances in his battle with opposition forces.
---