Woman to head CIA's clandestine service?
For the first time in CIA history, a woman may head the spy agency's clandestine service. But her connection to abusive treatment of terrorist suspects at 'black sites' has brought criticism.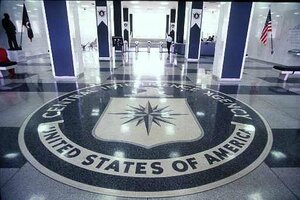 Melanie Stetson Freeman/The Christian Science Monitor
In the film "Zero Dark Thirty," a young CIA officer known only as "Maya" is relentless – apparently obsessive – in tracking down Al Qaeda leader Osama bin Laden. For years, she badgers her agency superiors. She moves back and forth between CIA headquarters in Langley, Va., and CIA facilities in South Asia, sometimes witnessing waterboarding and other abuse of terrorist suspects in Afghanistan. Finally, her years of persistent work pay off and the Navy's Seal Team Six puts away bin Laden forever.
"Maya" is a real person, we're told, and the filmmakers say their work is "based on firsthand accounts of actual events."
Now, art having reflected life, life seems to be imitating art's sequel.
For the first time, a woman – a CIA veteran – is running the agency's National Clandestine Service.
As first reported by the Washington Post (which withheld her name), the woman is serving in an acting capacity until CIA director John Brennan appoints a permanent replacement for the clandestine service chief who retired recently. She is reported to be on a short list of candidates, and she is broadly supported within the agency.
---