Secretary Kerry returning to Mideast: How much nudging will he do?
Seeking to build on Obama's recent visit, John Kerry will be in Turkey and Israel – already his third trip there as secretary – to signal the Mideast parties 'he's serious' about making peace.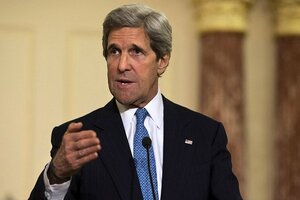 Jacquelyn Martin/AP
Secretary of State John Kerry will sit down with leaders in Turkey and Israel this weekend, anxious to test out what progress he might be able to make in long-stalled Middle East peace talks after both President Obama's recent visit as well as his own attention to the region.
Secretary Kerry made it clear from the moment he assumed his post as chief US diplomat this year that he intended to give long-elusive peace between Israelis and Palestinians a serious shot – despite the long odds against success. By adding stops in Istanbul Saturday and then in Israel Sunday to a previously planned overseas trip, Kerry is out to hammer home to leaders in the region in particular that he intends to stay on the issue.
"He's all in, he's serious about this," says one State Department official, speaking anonymously because he was not authorized to comment on Kerry's trip. It will be Kerry's third trip to Israel since taking office.
---