To regain kids, FLDS women try new tactic: public relations
Texas judge rules that 416 children must remain in state custody for now, orders DNA tests.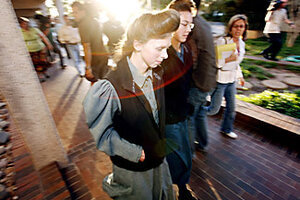 BRIAN CONNELLY/SAN ANGELO STANDARD-TIMES/AP
The two-day hearing in Texas late last week that resulted in the state keeping 416 children from returning to their communal home opened a rare window into the female side of a religious group that has long shut out contact with the outside world.
Mothers of some of the children now in state custody, adherents of the Fundamentalist Church of Jesus Christ of Latter Day Saints (FLDS), prominently attended the hearing and often spoke to members of the press outside. In addition, they invited Americans across the nation, via televised broadcasts, to tour a home situated on the isolated 1,691-acre Yearning for Zion ranch near Eldorado, Texas.
Others gathered for group interviews, insisting they take very good care of their children, yet offering little information on the ages at which they permit their daughters to marry or about the fathers of their children.
Up to now, the focus of court cases against the FLDS involving polygamy have focused on the men, such as the prosecution of the group's leader, Warren Jeffs, in Utah and Arizona for arranging marriages of underage girls.
---