U.S. high court upholds voter photo I.D.
Monday's ruling gives a green light to aggressive antifraud efforts often favored by the GOP.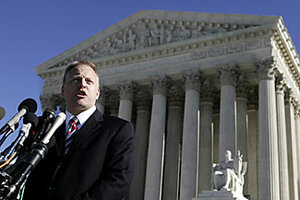 Evan Vucci/AP/file
Requiring prospective voters to present a photo ID before casting a ballot does not violate the right to vote.
In a 6-to-3 decision announced on Monday, the US Supreme Court upheld a 2005 Indiana law that requires voters to show government-issued photo identification before voting.
The opinion is important because it helps set a standard for the upcoming 2008 elections in November and it gives a green light to the kind of aggressive antifraud efforts favored by many Republicans. Opponents said the Indiana photo ID law is among the toughest in the nation and argued that it will discourage some voters – particularly those who are elderly, disabled, poor, or minority – from participating in the elections.
Democratic officials went even further. They complained that the law was a thinly veiled attempt to suppress Democratic voter turnout in Indiana.
In upholding the law, the majority justices said the burdens of the voter ID requirement did not amount to a constitutional violation.
"On the basis of the record that has been made in this litigation, we cannot conclude that the statute imposes excessively burdensome requirements on any class of voters," writes Justice John Paul Stevens, in an opinion joined by Chief Justice John Roberts and Justice Anthony Kennedy. Three other justices concurred in the judgment, providing the Stevens opinion the necessary majority.
---