Verdict in bin Laden driver war crimes trial
The jury in the Hamdan case gives a mixed result, but it's seen as a victory for Bush administration.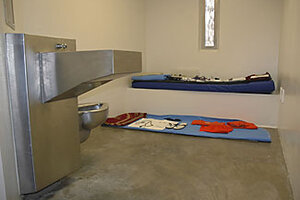 Randall Mikkelsen/Reuters
The guilty verdict delivered against former Osama bin Laden driver Salim Ahmed Hamdan on Wednesday establishes a legal precedent that will make it easier for prosecutors to convict other suspected war criminals in military commission trials at Guantánamo Bay, Cuba.
Mr. Hamdan, a Yemeni national, was convicted of providing material support to a terror group. But the six-member war crimes tribunal also found Hamdan not guilty of charges that he was a willing participant with Al Qaeda in a terror conspiracy.
The split verdict comes in the first war crimes tribunal conducted by the US military since World War II. The military commission, made up of six officers hand-picked by the Pentagon, reached its verdict after eight hours of deliberations over three days.
The conviction marks an important victory for the Bush administration.
Deputy White House spokesman Tony Fratto said the administration was "pleased" with the outcome. "We look forward to other cases moving forward to trial," he said.
The Bush administration has faced a heated debate and a barrage of legal challenges over its plan to use the Guantánamo terror prison camp as a venue for bringing Al Qaeda suspects to justice.
Supporters of the commission system say its stripped-down trial protections are necessary to safeguard sensitive intelligence sources and methods while providing a fair trial. Critics say the process is rigged to produce convictions and cover up alleged torture and other mistreatment of terror suspects.
---