Nancy Garrido: participant or victim in Jaycee Dugard case?
Husband Phillip Garrido was ordered held on $30 million bail Monday. Nancy's lawyer may suggest she was a battered woman.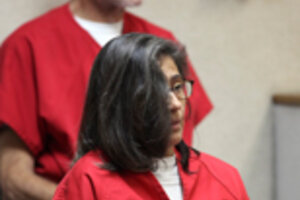 Rich Pedroncelli / AP
The portrait that has emerged of Nancy Garrido is, in many respects, strikingly different from that of her husband.
The two were arrested Aug. 26 on charges of kidnapping Jaycee Lee Dugard in 1991. Phillip Garrido has a history of drug abuse and was twice arrested on charges of rape, though convicted only once, in 1976.
His wife, on the other hand, has been described as a passive yet caring woman who worked as a nursing assistant. She looked after her husband's elderly mother in their Antioch, Calif., home. Her acquaintances and relatives have called a "hermit" and "robot" who lived in the shadows and under the thumb of a controlling husband.
It's this portrayal – albeit one that is far from fully developed – that has led many to ask whether Ms. Garrido was a willing participant in Ms. Dugard's abduction, as police have charged, or another victim in this case, as her defense attorney may well argue.
"It sounds to me like [her lawyer is] trying to raise a claim that she is like a battered woman.... Like a [Charles] Manson follower who sort of robotically followed the orders of the dominant male," says Bennett Gershman, a professor of law at Pace Law School in New York and former defense attorney.
---