Illinois leaders split on taking Guantánamo detainees at state prison
Idea of transferring Guantánamo detainees to a prison in Illinois has backing of state's top Democrats, but Republican congressmen balk.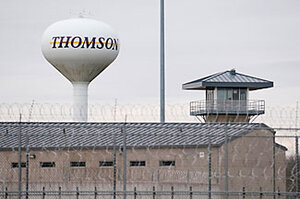 Stephanie Makosky/Reuters
As it maneuvers to close the Guantánamo Bay terrorism camp and move detainees to the US, the Obama administration is eyeing an underused state prison in tiny Thomson, Ill., a town of about 600 people on the Mississippi River in the northwest part of the state. On Monday, a delegation from the US Bureau of Prisons toured the Thomson Correctional Center.
To overcome a congressional ban on detaining the suspects on US soil, local support for the move would likely be key – a hurdle helped over the weekend by strong backing from Illinois Gov. Pat Quinn (D) and Sen. Richard Durbin (D). Both touted the idea as a rare opportunity to bring some 3,000 jobs and up to $1 billion over four years to a part of the state in desperate need of an economic jolt.
Housing any of the detainees at Thomson would be "good for our state, good for our economy and good for our public safety," Governor Quinn said Sunday at a news conference.
But already the plan is generating controversy, with politicians dividing primarily along party lines in a debate that comes down to jobs versus security.
---