Las Vegas shooting: rage against the courts
Las Vegas shooting suspect Johnny Lee Wicks had a long rap sheet and was reportedly upset about the dismissal of his lawsuit against the Social Security Administration. Experts say it's not easy to tell whether a disgruntled plaintiff will become a violent one.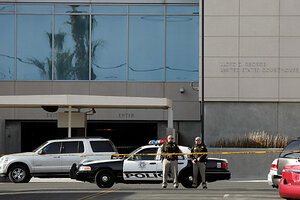 Steve Marcus/Reuters
The deadly shooting at a Las Vegas federal courthouse Monday highlights the type of threat to courthouse security that's hardest to protect against – targeted attacks on courts and judges by jilted plaintiffs
On Monday, Johnny Lee Wicks walked into the lobby of the Lloyd George US Courthouse and Federal Building, about a mile from the Las Vegas Strip, and apparently opened fire with a shotgun that was hidden under his jacket. He killed a security officer and wounded a US marshal. Mr. Wicks was killed in the shootout that followed.
Early reports indicate that Wicks was upset over a judge's Feb. 9 dismissal of his lawsuit against the Social Security Administration. The suit claimed that his benefits were cut because he was black. In his court filings, he claimed to be the victim of a government scam perpetrated against "old blacks who are not well educated."
Federal officials are still investigating the shooting and the motive, but all indications point to a man lashing out at the legal system over a sense of being wronged by the federal government.
---
Follow Stories Like This
Get the Monitor stories you care about delivered to your inbox.