Beat-up cars and neuron computers: broken 'dream' of Amy Bishop?
The emerging portrait of neurobiologist and murder suspect Amy Bishop shows a disconnect between how she saw herself and her life and the actual reality of her experience.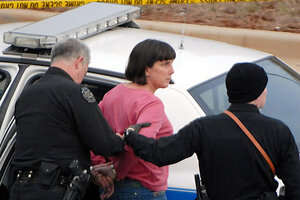 Dave Dieter/Huntsville Times/AP
Neurobiologist Amy Bishop, the suspect in last week's shooting of six scholars at the University of Alabama-Huntsville, liked to talk up her relationship to Harvard and the writer John Irving (a second cousin), but didn't want her writing buddies to see that she drove a beat-up Chrysler.
After confronting a woman at a fast-food restaurant in 2002 for taking the last booster seat, Dr. Bishop, a mother of four, punched her while yelling, "I am Dr. Amy Bishop!"
And after decades spent climbing the rungs of academe only to be denied tenure, Bishop allegedly responded to others' failure to recognize her achievements as she saw fit by pulling out a 9 mm semi-automatic handgun at a faculty hearing, opening fire, and emptying bullets until the gun jammed and clicked in the face of a colleague.

A disconnect between Bishop's actual life experience and the life of success and recognition she evidently expected is a recurring theme in the case of the woman with the dark past. Bishop's husband, James Anderson, has told the press that his wife has had no mental health issues. But legal experts expect Bishop to plead insanity to several charges of murder and attempted murder.
---