Supreme Court, gun control, and the Second Amendment: a reckoning
The Supreme Court's next Second Amendment cases may decide which state and local gun-control laws can stand.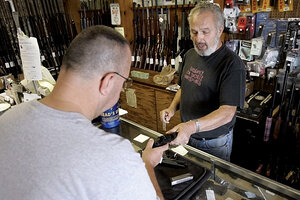 Frank Polich/Reuters/File
In the nearly two years since the US Supreme Court struck down the District of Columbia's ban on handguns, more than 190 challenges have been filed seeking to overturn other gun-control laws or to reverse firearms convictions.
Now, with the justices examining a similar ban in place in Chicago, gun-rights advocates are hoping for another landmark constitutional victory – this time extending an individual right to keep and bear arms in cities and towns across the country. (To see a preview of this case, click here.)
But the ultimate showdown over gun control in America will be waged in a future legal case not yet on the high court's radar, analysts say. At issue in that case: Are Second Amendment rights as fundamental as freedom of speech and religion, or will gun rights be subject to lesser constitutional protection?
The answer to that question – and the potential future course of gun control – may rest with a majority of the nine men and women on the Supreme Court. When that future case arrives, it will all boil down to a three-word phrase of legal jargon: "standard of review."
What does 'standard of review' mean and how does it relate to gun rights?
---