Fake tax refund scams on the rise as tax day looms
The Justice Department is highlighting cases where tax preparers filed for fraudulent tax refunds in a bid to discourage would-be tax cheats.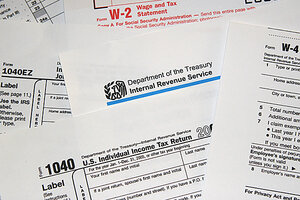 Newscom
Justice Department lawyers are seeking to shut down a Huntington Beach, Calif., tax preparation service accused of attempting to obtain $15 million in fraudulent tax refund checks.
A federal complaint alleges that Alexander Adams and his two sons, Garrett and Brandon, were attempting to claim substantial tax refunds based on fabricated income tax withholdings. Twice they filed for refunds of $2.5 million. In another return they sought $361,000.
The tax preparers did it by filing false Internal Revenue Service documents, including 1099 forms reflecting fictitious tax withholdings, according to federal officials. The inflated, fictitious withholdings were then cited to justify the fraudulent refunds. The father and sons did business as Adams Beach Income Tax.
Officials with the Justice Department's tax division say such fake refund scams are a growing trend. With the April 15 tax deadline fast approaching, federal tax officials are pointing up a number of recent tax fraud prosecutions in the hope that tax filers and tax preparers are aware that enforcement operations are underway.
Last week, a federal judge in Sacramento, Calif., permanently barred Teresa Marty and her Placerville, Calif., business Advanced Financial Services LLC, from working as federal tax return preparers.
---