David Headley pleads guilty in 2008 Mumbai terrorist attack
US citizen David Headley, who allegedly scouted locations and provided advance support for the 2008 Mumbai terrorist attack, agreed to plead guilty for his role in exchange for avoiding the death penalty.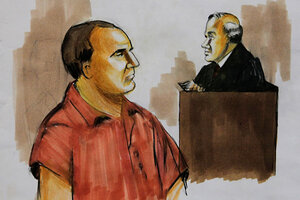 Verna Sadock/AP/File
Facing a possible death sentence, a Chicago man agreed to plead guilty on Thursday to performing advance surveillance that helped lay the groundwork for the deadly 2008 terrorist attack on civilians in Mumbai, India.
David Coleman Headley, a US citizen, could have been sentenced to death by lethal injection for his alleged involvement in the India attacks that left more than 164 dead, including six Americans. But with his guilty plea, prosecutors have agreed not to seek the death penalty or to extradite him to India, Pakistan, or Denmark.
The agreement, announced in federal court in Chicago, is contingent on Mr. Headley's full cooperation with US intelligence officials and prosecutors. Under sentencing guidelines he could receive a prison term of up to life in prison. But his prison time could be reduced based on the value of his cooperation.
Headley's plea agreement says he's been cooperating with US officials since his arrest in October 2009, and that he has already provided "substantial assistance."
"Not only has the criminal justice system achieved a guilty plea in this case, but David Headley is now providing us valuable intelligence about terrorist activities," Attorney General Eric Holder said. "As this case demonstrates, we must continue to use every tool available to defeat terrorism both at home and abroad."
---
Follow Stories Like This
Get the Monitor stories you care about delivered to your inbox.