Constance McMillen case: proms as gay-rights battleground
A federal judge said a Mississippi high school violated Constance McMillen's rights when it said she couldn't bring a girlfriend to prom. But the school is avoiding the gay rights issue by canceling prom and allowing parents to sponsor a substitute dance.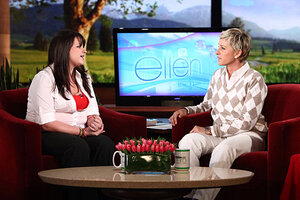 Michael Rozman/AP/Warner Bros.
A federal judge in Mississippi ruled Tuesday that a school district violated Constance McMillen's rights when the high school senior was banned from bringing her girlfriend to prom.
But US District Judge Glen Davidson denied the American Civil Liberties Union's request to force the Itawamba County School District to hold an April 2 prom at which Constance and her girlfriend could be included. Parents will host a private prom, and that, Judge Davidson said, filled the need for a dance.
The gay-rights question on whether to allow same-sex dates at school-sponsored proms is becoming as prevalent in the Bible Belt as whether to host racially integrated dances. In the South, schools have often avoided racially integrated dances and constitutional questions by having parents or small businesses sponsor segregated dances.
For instance, Charleston High School in Mississippi held its first racially integrated prom just two years ago. The event came about only after the school accepted actor and Charleston native Morgan Freeman's offer to pay for the senior prom. His only condition: That both blacks and white could attend. Some whites, however, still held their own "white only" prom.
---