Hutaree militia arrests point to tripling of militias since 2008
Federal authorities arrested nine members of the Hutaree militia, a fringe Christian group in Michigan, this weekend. The indictment alleges that the group was planning to kill law-enforcement officers as part of a plan to 'levy war' on the United States.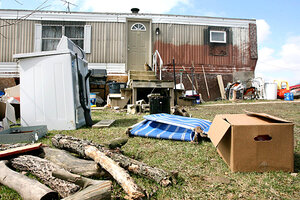 Madalyn Ruggiero/AP
The arrests of nine members of the Hutaree militia, a Midwestern Christian militia Hutargroup, are illustrating a rise in militia activity, which had been relatively quiet during the term of President George W. Bush but has shot up dramatically since the election of President Obama, experts that track militia groups say.
The FBI conducted raids Saturday and Sunday in Michigan, Indiana, Ohio, and suburban Chicago to round up senior members of the group, which a federal indictment released Monday calls an "anti-government extremist organization" intending to "levy war against the United States."
The group is charged with five counts, including seditious conspiracy and attempts to use weapons of mass destruction, which refers to the allegation in the indictment that Hutaree members planned to use roadside bombs. If convicted, the suspects could face life in prison, the maximum penalty for the weapons of mass destruction charge.
---