Armed America: Behind a broadening run on guns
Firearms sales have their cycles, but types of buyers – and their motivations – have shifted.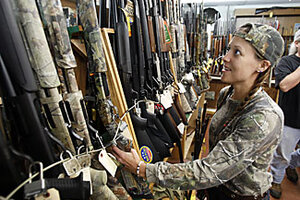 Steve Helber/AP/FILE
What do an elderly Oklahoma homeowner, a Virginia Citizen Militia member, and a Texas airline pilot all have in common these days?
They're all part of America's massive gun-and-ammunition buying spree – a national arming-up effort that began before last year's election of President Obama and continues unabated. Across the United States, it has led to shortages of assault-style weapons, rising prices, and a broadening of gun culture to increasingly include older Americans, women and – gasp – liberals.
The causes are varied – from fears over crime, both rational and irrational, to the concern that Second Amendment rights will be curtailed by a Democrat-controlled Washington. With the stock market deeply uncertain, some buyers simply think guns are a good investment. The run on guns suggests a shift in public attitudes about gun rights, and it presents a snapshot of a country that has historically turned to powder and balls in times of turmoil.
"There's the sort of stereotype that gun owners were middle-aged Republican white men who were fairly easy to isolate ... in order to regulate them out," says Brent Mattis, a shooting instructor in Florida. "Now that more women are owning guns, more liberals are owning guns, and just average everyday people who want to keep themselves and their family safe. It's turning into an incredibly strong political phenomenon."
---