Justice Stevens retirement portends long, hot political summer
Confirmation of Supreme Court nominees has not always been so contentious. But with the defeat of Robert Bork in 1987, nominees' political positions as well as their judicial qualifications have been probed. This will likely be the case in replacing retiring Justice John Paul Stevens.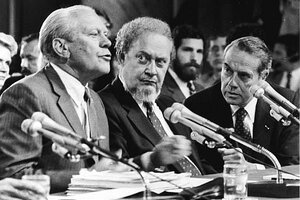 Charles Tasnadi/AP/File
The confirmation battle over the replacement for Supreme Court Justice John Paul Stevens, who announced his retirement Friday, could become one of the most heated US political struggles of the summer.
In part, that's because of the particulars of President Obama's situation. His poll numbers have dipped, and Republicans are looking to capitalize on perceived Democratic vulnerability in advance of next fall's mid-term elections.
But it's also due to the general fact that over the last 30 years or so Supreme Court nominations have developed into an intense form of US political theater. Parties and interest groups use them to tussle over everything from hot button issues such as abortion to the general ideology that divides them – as well as the qualifications of the nominee.
IN PICTURES: Frequently mentioned Supreme Court possibilities
"There's been a kind of escalation in the process," says Lawrence Baum, a political science professor at Ohio State University who's an expert on judicial politics.
Justice Stevens said that he would step down when the court finishes its work on this session to allow enough time for his replacement to be confirmed before the next term begins in October.
President Obama said Friday that he would quickly move to name a successor who would be similar to Stevens.
This will be "someone who, like Justice Stevens, knows that in a democracy powerful interests must not be allowed to drown out the voices of ordinary citizens," Obama said.
---