Supreme Court sharply divided on Christian student group case
The Supreme Court heard arguments Monday in the case of a Christian student group that required members to denounce homosexuality. The court appeared split.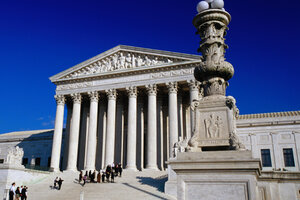 NEWSCOM
A sharply divided US Supreme Court heard oral arguments on Monday in a case examining whether a California law school can refuse to officially recognize a Christian student group that requires its members to embrace biblical passages denouncing homosexuality.
Officials at the University of California's Hastings College of Law in San Francisco said the group's stance violates the school's antidiscrimination policy – including bans on discrimination based on religious belief or sexual orientation.
As a result, the Christian Legal Society (CLS) was denied status as a recognized student group at the college and stripped of the ability to receive activity funds, use school e-mail and bulletin boards, and meet in school facilities.
During the hour-long argument on Monday, a lawyer for the CLS said the school's policy is itself discriminatory against students who wish to organize based on a shared system of beliefs.
"The policy is, I think, blatantly unconstitutional," said Michael McConnell, a Stanford law professor, who is representing the CLS. "It is also a frontal assault on freedom of association."
---