Supreme Court confirmations, as Elena Kagan saw them
Elena Kagan once urged aggressive questioning of and candid responses from Supreme Court nominees, but has lately backed off those views. Senate Democrats hail her 'diversity of experience.' Republicans question her qualifications.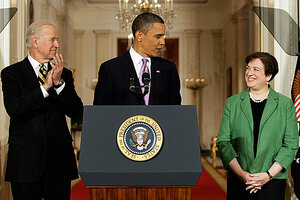 J. Scott Applewhite/AP
In 1995, a brash assistant law professor at the University of Chicago decided to blow the whistle on a broken Supreme Court confirmation process.
She complained that rather than triggering a public discussion of the cases and controversies facing the high court, Senate confirmation hearings had become a "vapid and hollow charade," little more than "official lovefests."
What the system most needed were tough, aggressive questions from the senators, and candid, revealing responses from nominees.
IN PICTURES: Justices with no prior judicial experience
What makes these pronouncements particularly relevant today is that they were written by Elena Kagan, who on Monday became President Obama's nominee to the US Supreme Court.
In roughly two months, it will be Ms. Kagan herself sitting in the hot seat before the Senate Judiciary Committee. Her words, preserved in a book review in the spring 1995 issue of the University of Chicago Law Review, may come back to haunt her.
"Senators today do not insist that any nominee reveal what kind of Justice she would make, by disclosing her views on important legal issues," Kagan wrote.
---