Obama cites 'temperament' of Kagan, Supreme Court nominee
President Obama notes consensus-building as a key attribute of Elena Kagan, his Supreme Court pick. She was the first female dean of Harvard Law School and the first female US solicitor general.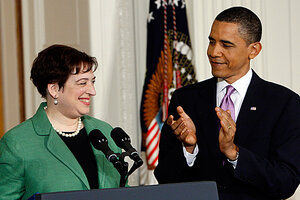 Pablo Martinez Monsivais/AP
President Obama on Monday nominated Elena Kagan to fill the US Supreme Court seat of retiring Justice John Paul Stevens. If confirmed by the Senate, Ms. Kagan would become the fourth woman to serve as a justice and would increase to three the number of women currently on the nine-member court.
Kagan is the former dean of Harvard Law School and has served since March 2009 as US solicitor general, the government's chief lawyer at the high court. The solicitor general is sometimes referred to as the 10th justice because of the office's close working relationship with the Supreme Court.
In introducing Kagan during a White House ceremony, Mr. Obama referred to her as "our solicitor general, and my friend."
IN PICTURES: Justices with no prior judicial experience
He said she is an acclaimed legal scholar and trailblazing leader who had broken the glass ceiling for women as the first woman to serve as solicitor general and the first woman to lead Harvard Law School.
---