Supreme Court: Suspects must assert Miranda right to remain silent
The Supreme Court ruled Tuesday that criminal suspects must clearly state that they don't want to talk with police to exercise their Miranda rights. Silence during interrogation is not enough.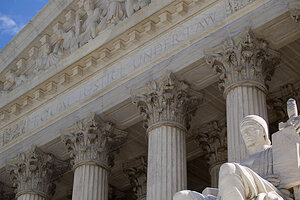 Evan Vucci/AP/File
Criminal suspects may not invoke their right remain silent by simply remaining silent during a police interrogation, the US Supreme Court declared on Tuesday.
In a 5-to-4 decision, the high court said that a suspect in police custody must make a simple, unambiguous statement that he or she wants to remain silent or that he or she does not want to talk to the police.
Without such a verbal declaration, any incriminating admissions made after a suspect has been given Miranda warnings about the right to remain silent may be used against that suspect in court, the high court said.
"A suspect who has received and understood the Miranda warnings, and has not invoked his Miranda rights, waives the right to remain silent by making an uncoerced statement to the police," Justice Anthony Kennedy wrote in the majority opinion.
In a dissent, Justice Sonia Sotomayor said the ruling marked "a substantial retreat from the protection against compelled self-incrimination" dating from the Supreme Court's landmark 1966 opinion in Miranda v. Arizona.
"The court today creates an unworkable and conflicting set of presumptions that will undermine Miranda's goal of providing 'concrete constitutional guidelines for law enforcement agencies and courts to follow,' " Justice Sotomayor wrote.
---