At Rod Blagojevich trial, jury selection -- and campaigning
Former Illinois Gov. Rod Blagojevich faces 24 counts including bribery and racketeering. Outside the courthouse, Blagojevich signed autographs and gave hugs.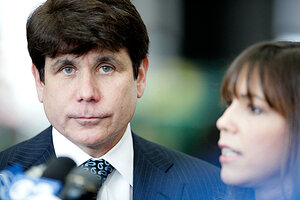 M. Spencer Green/AP
Former Illinois Gov. Rod Blagojevich started the first day of his federal trial doing what some say is his greatest talent: campaigning.
Outside the Dirksen courthouse Thursday, Mr. Blagojevich arrived with his wife, Patti, and met a throng of media and security personnel. The dozens of curiosity seekers ranged from supporters who held signs wishing him well to naysayers asserting his guilt.
Although her husband was rushed inside the courtroom before the start of the 11 a.m. trial, Mrs. Blagojevich read a statement thanking supporters.
"Today is a good day because today begins the process of clearing my husband's name. I know my husband is an honest man, and I know that he is not guilty," she said.
The former governor faces 24 counts of fraud, conspiracy, bribery, and racketeering, involving alleged attempts to trade official acts as governor in exchange for contributions to his campaign fund. He was arrested in December 2008 at his Chicago home.
Blagojevich had signed autographs and given hugs outside the federal building, but inside the courtroom, he was more subdued. Judge James Zagel, who is presiding over the trial, started the proceedings by reading the charges and explaining to a pool of 34 potential jurors the importance of their job. The trial could last four months.
Blagojevich is expected to take the stand at some point. Overall, the trial will be packed with drama, considering the proposed strategies from both the prosecution and defense teams.
---