Elena Kagan: former solicitors general back Supreme Court nominee
Elena Kagan was the first woman solicitor general – the government's top lawyer at the Supreme Court. Former solicitors general have written a letter endorsing the Supreme Court nominee.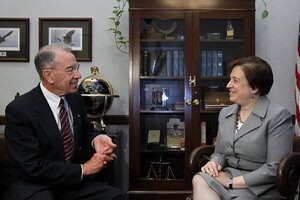 Haraz N. Ghanbari/AP
Supreme Court nominee Elena Kagan has won the endorsement of the eight men who preceded her as solicitor general of the United States.
Former solicitors general for the past 25 years – serving Presidents Reagan through George W. Bush – said Ms. Kagan had "honored the finest traditions" of that office during her past year of service as the government's top lawyer at the Supreme Court.
The endorsement was made in a letter sent Tuesday to the Senate Judiciary Committee in advance of Kagan's confirmation hearings, which are set to begin on Monday.
IN PICTURES: Justices with no prior judicial experience
"She really does have the right stuff," said Seth Waxman in a conference call with reporters.
Mr. Waxman served as President Clinton's solicitor general at the time Kagan was working as a lawyer and policy adviser in the Clinton White House. He said he also had professional contact with her preparing cases before the high court during the past year and as president of the board of overseers at Harvard where Kagan was dean of the law school.
---