How Elena Kagan worked to limit military recruiting at Harvard
Elena Kagan, Supreme Court nominee, said she 'abhorred' the Pentagon's 'don't ask, don't tell' policy banning gays from serving openly. In her confirmation hearings, critics will focus on her efforts to limit military recruiting at Harvard.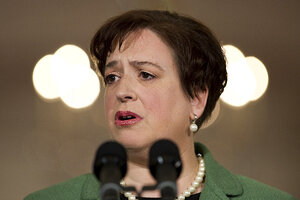 Newscom
Some of the toughest questions Elena Kagan will face in her Supreme Court confirmation hearings this coming week will focus on her actions during the military recruiting controversy while she was dean of Harvard Law School.
The issue does not lend itself to 10-second sound-bite questions or responses. But it is an area that could reveal something important about Ms. Kagan and what kind of Supreme Court justice she might become.
In 2004, Kagan barred military recruiters from using the law school's office of career services to meet with students interested in military service. She took the action to enforce the school's longtime policy of shunning prospective employers who discriminate based on sexual orientation.
IN PICTURES: Justices with no prior judicial experience
The action was controversial because it came at a time when the United States was at war in both Iraq and Afghanistan. By November 2004, 1,410 coalition forces had died in Iraq, and 196 had been killed in Afghanistan.
---
Follow Stories Like This
Get the Monitor stories you care about delivered to your inbox.