Roman Polanski freed: Can he travel anywhere?
Roman Polanski was released from house arrest in Switzerland Monday after the country denied a US extradition request. But Polanski could still encounter trouble if he travels.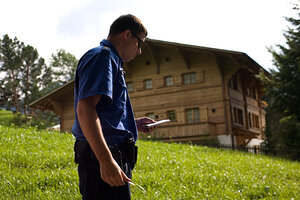 Anja Niedringhaus/AP
Roman Polanski is a free man, as the Swiss government has declined to extradite him to the US on charges of having sex in 1977 with an underage girl. Does that mean the famous film director now can travel wherever he wants?
No, he probably can't. Unless the United States openly declares that it is no longer interested in pursuing him, Mr. Polanski still risks arrest and jail if he enters a country that has an extradition treaty with the US.
That risk might be small. After all, Polanski visited his chalet in Switzerland for decades prior to his arrest last September. But Polanski's lawyers almost certainly will advise him that it is a risk he should not run, given his recent near-return to the Los Angeles county jail.
"I think it is not true he is free to go anywhere," says Carl Tobias, a law professor at the University of Richmond.
Polanski will be safe in France. He holds dual French/Polish citizenship, and France does not extradite its own citizens. Switzerland is also likely open to the director, given today's release.
---