Warren Jeffs: Utah court overturns polygamist's rape conviction
The Utah Supreme Court ruled Tuesday that the jury in the 2007 rape trial of polygamist leader Warren Jeffs received improper instructions from the trial judge.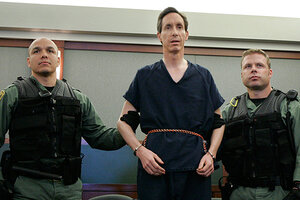 Laura Rauch/AP/File
The Utah Supreme Court on Tuesday overturned polygamist leader Warren Jeffs's rape conviction for conducting the marriage of a 14-year-old girl.
Mr. Jeffs, known as the "prophet" of the Fundamentalist Church of Jesus Christ of Latter-day Saints (FLDS), was convicted in September 2007 of two counts of rape and has been in prison since.
The Utah justices held that instructions given to the jurors were erroneous and ordered a new trial. Jeffs was originally found guilty of being an accomplice to rape for using his religious influence to coerce a minor into marrying her 19-year-old cousin.
The justices said that the jury's deliberation should have been focused on whether Jeffs' intent in performing the "spiritual marriage" was for rape to occur, not on whether the action itself led to nonconsensual sex.
"In particular, the court held that Mr. Jeffs had to have the intent to aid the rape that was committed," says Paul Cassell, professor of criminal law at S.J. Quinney College of Law at the University of Utah. "That will be the issue on which the new trial will focus."
Analysts say the court's opinion was narrow in the sense that they did not hold that Jeffs is innocent but rather simply that the jury was improperly instructed on the charges.
---