Prop. 8 overturned: Why Vaughn Walker ruled against gay-marriage ban
Prop. 8 overturned by US District Judge Vaughn Walker Wednesday. Judge Walker ruled that the California gay-marriage ban violates the Constitution's equal protection clause.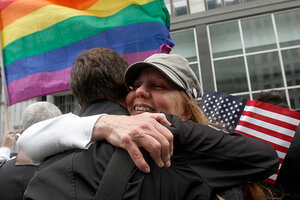 Jeff Chiu/AP
Federal Judge Vaughn Walker Wednesday struck down as unconstitutional a state-wide ban on same-sex marriage, setting the stage for a series of appeals in a landmark case likely headed to the US Supreme Court.
Now that Prop. 8 has been overturned, the decision potentially opens the way for resumption of legal marriages between gay and lesbian partners in the nation's largest state.
In addition, the high-profile case will force the nation and its federal judges to confront the issue of gay civil rights and same-sex marriage. Last month, a federal judge in Boston ruled that the federal Defense of Marriage Act (DOMA) violated the Constitution's equal protection clause.
But these rulings come at a time when many states have been moving to embrace the traditional definition of marriage – as a union between one man and one woman.
In his 135-page ruling, Chief US District Judge Walker said same-sex couples have a fundamental right to marry the person of their choosing, regardless of their gender or sexual orientation.
The judge belittled the motives of supporters of California's state-wide ballot initiative, Proposition 8, saying they were acting out of "fear or unarticulated dislike of same-sex couples."
"The evidence shows that, by every available metric, opposite-sex couples are not better than their same-sex counterparts; instead, as partners, parents and citizens, opposite-sex couples and same-sex couples are equal," he said. "Proposition 8 violates the equal protection clause because it does not treat them equally."
---
Follow Stories Like This
Get the Monitor stories you care about delivered to your inbox.