Will California gay-marriage trial go to Supreme Court?
As a federal court considers the constitutionality of a voter-approved ban in California, some gay-marriage advocates say a Supreme Court decision could be the best path to legalization.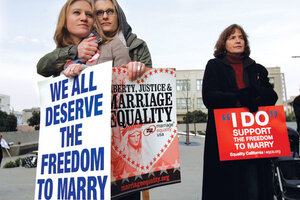 Robert Galbraith/Reuters
On the 17th floor of the Phillip Burton Federal Building in a city known for being at the edge of social change, a federal trial is under way that could lead to a landmark ruling on same-sex marriage in America.
Perry v. Schwarzenegger, which began Jan. 11 in the US District Court for Northern California, challenges the constitutionality of California's voter-approved ban on gay marriage. Over the past 10 days, lawyers have made a broad-based case against Proposition 8, ranging from arguments that it reflects prejudice against gays and lesbians to discussions about the nature of modern marriage, and the notion that homosexuality requires special protections like gender and race.
Many gay-marriage advocates say the case is ultimately destined for the US Supreme Court and represents the best path to legalizing same-sex marriage. They hope this lawsuit will be their Loving v. Virginia – the 1967 case that ended race-based restrictions on marriage.
But not all activists are on board. Some worry the stakes are too high: a federal challenge at a time when most states and voters reject gay marriage could be premature. Even if the Supreme Court eventually takes the case – bound to be appealed by the losing side in San Francisco in the Ninth Circuit Court of Appeals and then to the Supreme Court– the court has historically been reluctant to move too far ahead of the people. A defeat in the Supreme Court would deal a huge setback to a movement that has seen significant gains over the past decade.
---