Proposition 8: federal judge overturns California gay marriage ban
Proposition 8, the 2008 California ban on gay marriage, is unconstitutional, a federal judge ruled Wednesday. Supporters of Proposition 8 say they will appeal the decision.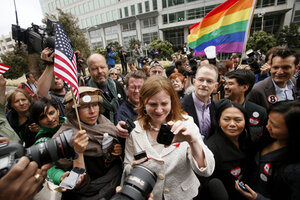 Eric Risberg/AP
A US district judge in San Francisco on Wednesday overturned California's Proposition 8, the 2008 voter-approved ban on gay marriage.
The ruling, which will certainly be appealed, follows a closely watched trial on the constitutionality of the state's prohibition of same-sex marriage that many expect will eventually be decided in the US Supreme Court. A decision there would result in a landmark ruling on one of the most contentious social issues of our time.
Lawyers who defended Proposition 8 have already filed a request with the court to keep the state's gay marriage ban in place until an appeal can be heard.
The case challenging the proposition, Perry v. Schwarzenegger, was brought by two unmarried gay couples who argued the ban violated their right to due process under the law and the Constitution's equal protection clause.
Chief US District Judge Vaughn Walker agreed.
"The evidence shows that Prop. 8 does nothing more than enshrine in the California constitution, the notion that opposite sex couples are superior to same sex couples," Judge Walker wrote in his 130-page decision. "Because California has no interest in discriminating against gay men and lesbians and because Prop. 8 prevents California from fulfilling its constitutional obligation to provide marriages on an equal basis, the court concludes the Prop. 8 is unconstitutional."
---