Case of soup-kitchen thief fuels critics of three-strikes laws
A California man sentenced to 25 years to life was released Monday because a judge ruled his sentence under a three-strikes law was too harsh for his crime – breaking into a church soup kitchen 13 years ago.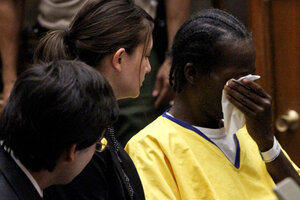 Anne Cusack, Pool/AP Photo
Critics of "three-strikes" laws are hoping that the release Monday of Gregory Taylor – serving a near life sentence for breaking into a soup kitchen 13 years ago – will provide momentum to efforts to repeal or modify the laws in the 25 states that have them.
Mr. Taylor is one of 14 California inmates who have been resentenced as a result of work by students at the Three Strikes Project, part of Stanford University Law School's Criminal Defense Clinic.
Los Angeles Superior Court Judge Peter Espinoza said Taylor's sentence was one of many third-conviction cases that brought "disproportionate" sentences and "resulted in, if not unintended, then at least unanticipated, consequences."
In a political environment where being perceived as soft on crime can destroy a candidate's chances at election, "anyone proposing a loosening of the three-strikes law will need to proceed with caution," says Jessica Levinson, a professor at Loyola Law School. Efforts to amend the law have failed before.
---