Behind Chicago's high-crime summer: persistent street gang violence
One legacy of public housing cuts is the spread of street gang turf battles to new pockets of the city. Gang violence contributed to a high-crime summer.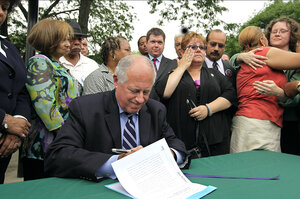 M. Spencer Green/AP
With three police officers killed in separate instances in two months, and calls from some Illinois lawmakers for the National Guard to patrol its most violent streets, Chicago once again finds itself under growing pressure to rein in crime.
Although this year hasn't been Chicago's worst, the police murders have brought new attention to the city's stubbornly high homicide rate, which experts say is the result of a chronic gang problem and budget cutbacks that have reduced the number of officers patrolling tough neighborhoods.
As of Aug. 12, the homicide count was 273, more than half last year's total of 458. While that number is down significantly from the years when Chicago's homicide numbers exceeded 900, it still far outpaces murder rates in other big American cities. Los Angeles, a larger city than Chicago by a million residents, reported 313 homicides last year, according to the FBI.
Chicagoans were alarmed this summer after a series of murders, including the death of an 8-year-old girl who was shot by a stray bullet while skipping rope, an unintended victim in a heated gang war. In July, a Chicago Tribune/WGN poll found that half of those surveyed felt that violence here was getting worse.
"Mayor [Richard M.] Daley needs to send the National Guard over here," says Erika Bernadin, a mother of six who lives in Roseland, a far South Side neighborhood with the highest number of gun deaths this summer. "There ain't nothing to do here but listen to the sad stuff on the news."
---