Supreme Court weighs need for background checks for NASA scientists
Top scientists at a NASA lab say government background checks aren't necessary and violate their right to privacy. At a Supreme Court hearing Tuesday, justices questioned their position.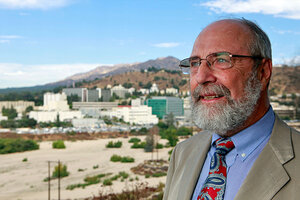 Damian Dovarganes/AP
The lawyer for a group of top scientists at NASA's Jet Propulsion Laboratory in California encountered a skeptical bench on Tuesday as he urged the US Supreme Court to declare that open-ended government background investigations violate his clients' right to privacy.
Pasadena lawyer Dan Stormer told the high court that government contractors like his clients, who perform "low-risk" work, should not have to face intrusive questioning about drug treatment or counseling simply to qualify for a government-issued ID badge.
At issue in the case is whether the government violates the JPL workers' constitutional right to informational privacy when they are told that they must agree to answer all the government's questions or lose their jobs.
In addition to the usual identifying information, the questionnaires sought details of any illegal drug use in the past year and any involvement in drug treatment or counseling programs.
The process also authorized investigators to ask neighbors and others for adverse information about violations of the law, financial integrity, drug or alcohol abuse, mental or emotional stability, general behavior, or other matters.
A group of 28 scientists, engineers, and administrators at the Jet Propulsion Laboratory filed a lawsuit against the National Aeronautics and Space Administration charging that the agency's new background investigation requirements violated their constitutional right to keep certain intimate details of their lives free from government scrutiny.
---