No delay for 'don't ask, don't tell' ruling, so Pentagon takes gays - for now
A federal judge refuses to suspend last week's ruling that the Pentagon must stop enforcement of 'don't ask, don't tell.' So the Pentagon says it will comply and accept openly gay recruits. But it cautions that the ruling is being appealed.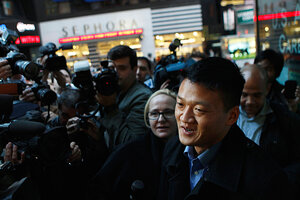 Lucas Jackson/Reuters
A federal judge in California refused on Tuesday to postpone a worldwide injunction issued last week blocking enforcement of the Defense Department's "don't ask, don't tell" policy banning gays from serving openly in the military.
US District Judge Virginia Phillips said the government had failed to prove the injunction would disrupt military operations or undercut readiness.
Instead, she said the don't ask, don't tell policy itself undercuts military efficiency. The judge said it also irreparably injures service members by violating their fundamental rights.
The action sets the stage for an expanding national battle over gay rights in the federal courts on issues ranging from receipt of federal benefits, to gay marriage, to service in the armed forces.
"[The government has] not shown … a likelihood [it] will suffer irreparable harm," Judge Phillips wrote in a six-page decision rejecting the requested stay. "The injunction requires [the government] to cease investigating and discharging service members pursuant to the Act. It does not affect [the government's] ability to revise [its] policies and regulations nor to develop training and education programs."
Government lawyers had asked Judge Phillips to stay her ruling invalidating the don't ask, don't tell policy to allow enough time to appeal the case to the Ninth US Circuit Court of Appeals.
---