Zachary Adam Chesser, linked to 'South Park' threats, pleads guilty
Zachary Adam Chesser pleaded guilty to threatening the creators of 'South Park' for lampooning the Prophet Mohammed. He also admitted to attempting to support Somali terrorists.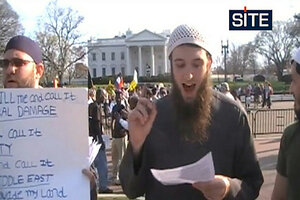 SITE Institute/AFP/Newscom
A Virginia man pleaded guilty on Wednesday to charges that he issued threats and solicited violent retribution against the writers of the South Park television show for an episode that lampooned the Prophet Mohammed.
Zachary Adam Chesser of Bristow, Va., also admitted that he posted on a jihadist website personal contact information of individuals who had joined a Facebook page promoting "Everybody Draw Mohammed Day."
Federal officials said he posted the information to provide targets for radical Muslims bent on revenge for perceived slights against Islam and Mohammed. The creator of the Facebook page has since changed her name and gone into hiding.
In a hearing in federal court in Alexandria, Mr. Chesser also pleaded guilty to suggesting that militant Muslims begin placing suspicious-looking but innocent packages in public places in the US.
In a website posting, he reportedly explained that the strategy was to make it more difficult for law enforcement officials to recognize real explosive packages left in public places.
---