'South Park' episode 201 and the frustration of being Muslim-American
The Muslim-American community overwhelmingly condemns any threat of violence over the depiction of Mohammed in 'South Park' episode 201. But the frustrations are real.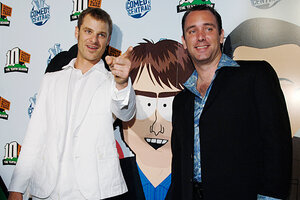 Chris Pizzello/AP/File
Cable channel Comedy Central delayed the release of "South Park" episode 201 online Thursday as part of its cautious approach to the episode, which drew veiled threats of violence for its depiction of the Islamic Prophet Mohammed in a bear suit.
Absurdity and insult are the stock in trade of "South Park." But episode 201 was censored heavily after the website RevolutionMuslim.com insinuated that the "South Park" creators might suffer the same fate as Dutch filmmaker Theo Van Gogh, who was assassinated for upsetting an Islamic group in 2004.
To mainstream Muslims, insinuations such as the one on RevolutionMuslim.com merely reinforce the worst stereotypes of Muslims as intolerant and prone to violence. But beyond the inexcusable behavior is an anger and frustration felt by many Muslim-Americans who struggle to reconcile the American freedoms they cherish with the often-callous ignorance of their faith here.
"What is clear is national Muslim organizations … reject the threat of violence against anybody voicing their free speech," says Ihsan Bagby, general secretary of the Muslim Alliance in North America.
What is more difficult is coming to terms with the fact that, particularly in a post Sept. 11 society, being a Muslim-means having to endure satirical works that are often offensive.
"We're still negotiating that," Mr. Bagby says.
RevolutionMuslim
In the case of "South Park," the context is clear: It is a comedy show and is designed to satirize everybody and everything in its path. In that case, "it's a waste of time" to get offended, says Bagby.
---