California court backs in-state tuition for illegal immigrants
Monday's California Supreme Court ruling upholding in-state tuition for illegal immigrants may lead to similar legal challenges elsewhere.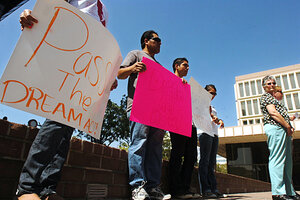 Rick Sforza/The Sun/AP/file
In a decision that added a new twist to the debate surrounding federal versus state control of immigration, the California Supreme Court on Monday ruled that undocumented immigrants can be eligible for reduced in-state tuition at California's public colleges and universities.
The case, Martinez vs. Regents, challenged a 2001 state law – the California Immigrant Higher Education Act – that gives in-state tuition rates at California's public colleges to students who complete three years at a California high school and earn a high school diploma or equivalent, regardless of their immigration status.
On Monday the California Supreme Court concluded that the state's method of giving qualified undocumented students in-state tuition rates met the requirements for such established by federal law. The court found that, even though the federal government has established some restrictions on state power, states retain the legal capability to enable undocumented students to have meaningful access to college education.
Several analysts say in-state tuition may now become the new illegal immigration battleground. On Tuesday, for example, Massachusetts Gov. Deval Patrick said he would push to give illegal immigrants in-state tuition.
The California decision also begs the question of what the lame duck Congress will do with the DREAM Act – proposed federal legislation that would provide a path to citizenship to some illegal immigrants who were brought to the US as children.
---