Lucasfilm settles antitrust case over wage suppression of top animators
Moviemaker Lucasfilm Ltd. settles case alleging it engaged in anticompetitive employment practices to preclude bidding wars for industry's top animators, US antitrust lawyers said Tuesday.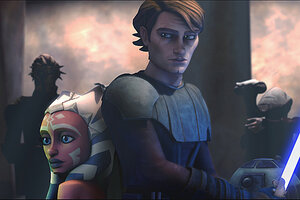 Business Wire/File
Federal antitrust lawyers announced Tuesday that they have reached a settlement with Lucasfilm Ltd., preventing the San Francisco-based motion picture production company from engaging in anticompetitive employment practices.
The company allegedly sought to undercut the ability of digital animators to work at competing companies and receive full compensation for their skills.
According to federal officials, Lucasfilm had entered an agreement with Pixar that neither company would try to hire away each other's employees. The companies also agreed to notify each other when making a job offer to an employee of the other company, and that when offering such a job, not to counteroffer with compensation above the initial offer.
RELATED: Our Top 10 'Star Wars' quotes
The action prevented potential bidding wars for certain highly prized animators.
Justice Department lawyers filed a civil antitrust complaint in federal court in Washington on Tuesday alleging a secret agreement between Lucasfilm and Pixar. They also filed a proposed settlement resolving the charges.
"The agreement between Lucasfilm and Pixar restrained competition for digital animators without any procompetitive justification and distorted the competitive process," said Christine Varney, assistant attorney general in charge of the DOJ's antitrust division, in a statement.
---