Michael Jackson trial: Did Conrad Murray act as a doctor or an enabler?
Conrad Murray, doctor of the late Michael Jackson, will stand trial on a charge of involuntary manslaughter this month, a judge ruled Tuesday. The case could offer insight on legal gray areas.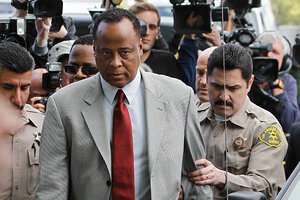 Danny Moloshok/Reuters/File
The upcoming trial of Conrad Murray, who is charged with involuntary manslaughter in the death of pop star Michael Jackson in June 2009, could provide clarity on what constitutes medical negligence, legal experts say.
Moreover, it could offer insight into if it is a doctor's duty to act in the best interest of client's health rather than the client's wishes to avoid pain.
"Frequently, performers are enabled by their handlers and managers and doctors because the recording and film companies want to get more and better performances out of them. Going after Murray is a clear break with that tradition," says Robert Pugsley, a professor at Southwestern Law School. "It provides a deterrent to the entire medical fraternity in getting involved in overprescribing."
After a six-day preliminary hearing, Los Angeles County Superior Court Judge Michael Pastor ruled Tuesday that there is sufficient evidence to try Dr. Murray on the charge of involuntary manslaughter. The judge also stripped Murray of his California medical license. Murray's arraignment will be Jan. 25 in Los Angeles.
Mr. Jackson died from an overdose of the surgical anesthetic, Propofol, which Murray acknowledged to police that he had used for two months in treating Jackson's insomnia. Later he said he had administered only a tiny amount that should not have killed Jackson – 25 milligrams. Autopsy results showed the amount of Propofol in Jackson's system to have been 10 to 100 times that.
---