Supreme Court: NASA's intrusive background checks OK
NASA scientists had challenged background checks that included questions about past drug use. The Supreme Court ruling sidesteps the issue of whether there is a right to informational privacy.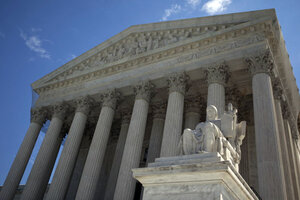 Evan Vucci/AP/File
Contract workers for the National Aeronautics and Space Administration (NASA) have lost their challenge to have intrusive government background investigations struck down as a violation of their right to privacy.
In an 8-to-0 decision announced on Wednesday, the US Supreme Court said the government has the power to insist that federal contract employees candidly answer certain personal questions – including whether they had received treatment or counseling for illegal drug use.
The ruling is a defeat for a group of 28 research scientists, engineers, and administrators at the Jet Propulsion Laboratory at the California Institute of Technology. The group filed a lawsuit challenging what they saw as overly intrusive background investigations that required that they answer personal questions or lose their jobs.
How much do you know about the US Constitution? A quiz.
Writing for the court, Justice Samuel Alito said the challenged background checks – including open-ended questions to neighbors and others about a worker's honesty – were "reasonable, employment-related inquiries that further the government's interests in managing its internal operations."
At the center of the case was an allegation that intrusive background investigations violate a constitutional right to informational privacy.
---