Arizona justice: Shawna Forde death sentence a rebuke to border vigilantes
An Arizona jury on Tuesday handed down a death sentence for Shawna Forde, leader of Minutemen American Defense. She was convicted in the killings of two border residents in 2009 – a case Latinos say should have prompted greater outcry from political leaders.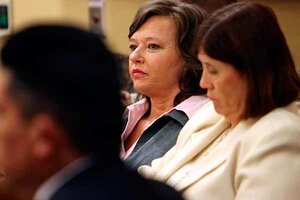 Greg Bryan/AP/File
Arizona is known for its tough stance against illegal immigrants, but this week a jury here sent a strong message of rebuke to anti-immigrant vigilante groups as well, sentencing the leader of a border watch group to death for her role in the 2009 home-invasion murders of a 9-year-old Hispanic-American girl and her father.
Latinos in Arizona had decried politicians' lack of attention to the brutal slayings, contrasting it with the more intense reaction to the murder of a white rancher in Cochise County last March, allegedly at the hands of an illegal border-crosser.
The death sentence handed down Tuesday in Tucson is against Shawna Forde, a resident of Washington State who headed the Minutemen American Defense group. She was convicted Feb. 14 of first-degree murder for orchestrating the killings of Brisenia and Raul Junior Flores of Arivaca, Ariz., a small community just north of the Mexican border.
"I think that the nation as a whole sees us as the wild, wild West, that things like that are going to be OK with us," says Angie Thomas, who sat on the jury. "And they're not."
The case has drawn back the curtain to reveal the dark side of the debate raging in Arizona over illegal immigration.
---