Do-it-yourself border patrol: one man's vigil with a gun and spotlight
Lynn Kartchner heads to the border at nightfall with a spotlight to help the border patrol catch drug smugglers. It's a sign of the prevailing sense of urgency along the US-Mexican border.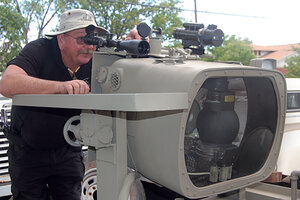 Lourdes Medrano
If night and the high mountains that enclose the San Bernardino Valley are the greatest allies of drug smugglers trying to cross the US-Mexican border, then Lynn Kartchner intends to become one of the smugglers' worst enemies.
A shop owner who has sold guns to alarmed ranchers and seen one of them die – perhaps at the hands of a smuggler – Mr. Kartchner is setting up on random nights on the property of six local ranchers along the border. With him is a military searchlight fitted with night-vision scopes and a siren. The idea is simple: Find smugglers and call the border patrol – and if trouble starts, be ready.
"If they shoot at me, I will shoot back," Kartchner says of intruders. "And if I see them bringing up a weapon I'll shoot them before they shoot me."
Kartchner's effort echoes far beyond Arizona's Cochise County, which one expert calls "ground zero of the American vigilante movement."
From the alleged murder of a tourist on Texas' Falcon Lake by Mexican pirates to the killing of Kartchner's rancher friend, Robert Krentz, in March, there is a growing perception along America's southern border – sometimes at odds with statistics – that the US government is powerless to stop drug violence from crossing the border.
---