Rod Blagojevich back in the spotlight defending himself
Former Illinois Governor Blagojevich wants immediate sentencing on his one conviction and scheduled retrial on other charges dismissed. Too costly to taxpayers, he says.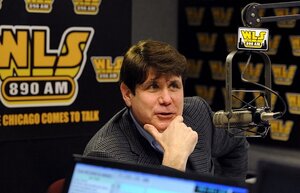 John H. White/Chicago Sun-Times/AP
Last week, Chicagoans encountered someone they spent a considerable amount of time with last year but may have temporarily forgotten due to the heated Chicago mayoral election that dominated headlines for five months: Rod Blagojevich.
The former Illinois Governor returned to the Chicago morning airwaves last week to discuss his upcoming retrial, which is scheduled for April 20. He served as the morning drive host on WLS-AM, a role he played in the weeks leading up to his first trial last year.
Mr. Blagojevich was tried in federal court in Chicago last summer on charges related to what prosecutors described as a pay-to-play scandal involving President Obama's former US Senate seat.
Related: Why Rod Blagojevich was convicted on only one of 24 counts
The trial, which drew international attention, resulted in a deadlocked jury. Of the 24 counts against him last summer, Mr. Blagojevich was convicted on just one – lying to the FBI, a count that carries with it the maximum of five years in prison.
---