On eve of Chicago election, a call to confront city's legacy of corruption
A report on 'Patronage, Cronyism and Criminality' in Chicago is released in the waning days of the campaign. The next mayor, the authors say, has the power to end the city's scourge.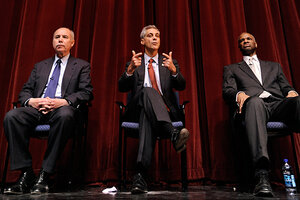 Paul Beaty/AP
The next mayor of Chicago has the power to help end the city's scourge of corruption, according to a new report by the University of Illinois at Chicago that outlines a plan to save taxpayers millions of dollars lost each year due to what it calls patronage, bribery, and theft at City Hall.
The report, titled "Patronage, Cronyism and Criminality in Chicago Government Agencies," dissects the major scandals that took place under the incumbent mayor, Mayor Richard M. Daley, and lists 340 city officials convicted of corruption-related wrongdoing since 1970.
The scandals, which are grouped in the report according to city agency, include unethical business dealings involving Chicago's O'Hare International Airport.
"The patterns of patronage, waste and corruption are so pervasive as to suggest that corruption exists in most city agencies. As long as Chicago is run by 'machine politics,' corruption will be a hallmark of city government," states the report, which was officially released Monday.
Crooked business dealings at the state, county, and Chicago city level cost Illinois taxpayers an estimated $500 million a year, it says.
---