Who can force utilities to cut greenhouse gases? Supreme Court to decide.
The Supreme Court hears a case Tuesday about greenhouse gases and global warming. Case could open the way for states and citizen groups to battle the threat of global warming via judicial order.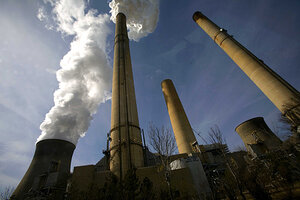 Kainaz Amaria/Sipa Press/Newscom/File
Fed up with the slow pace of government efforts to address global warming, a group of conservationists and state attorneys general filed lawsuits in 2004 asking a federal judge to order five major US power companies to cap and then reduce their emissions of carbon dioxide.
Seven years later, the case arrives at the US Supreme Court, where the justices must decide whether concerned citizens and state officials have the legal power to force suspected polluters to cut their alleged level of pollution – though the federal government itself has not yet taken action on carbon emissions.
The 2004 lawsuits were a bold move taken at a time when the Bush administration's Environmental Protection Agency (EPA) balked at claiming authority to regulate greenhouse gases. Some in the administration questioned the validity of research warning of the risk of global warming.
QUIZ: An "Are you smarter than Al Gore" energy quiz
Lawyers for the power companies moved to dismiss the lawsuits, arguing that global warming was an issue of public controversy that should be resolved by the political branches of government, not the judiciary.
A federal judge agreed and threw the lawsuits out. But an appeals court panel in New York reversed that decision, reinstating the suits.
---