House votes to strip EPA of power to curb carbon emissions
The House voted Thursday to bar the EPA from regulating carbon emissions and other greenhouse gases. The Senate on Wednesday rejected a similar proposal. Still, the fight is far from over.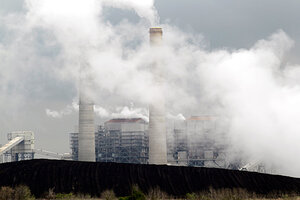 AP
Defying a veto threat by the White House, the House of Representatives on Thursday approved a bill to permanently eliminate all authority of the Environmental Protection Agency to regulate greenhouse-gas emissions.
Despite Washington's preoccupation with devising a budget resolution to avert a government shutdown, House Speaker John Boehner brought to a vote a largely symbolic bill aimed at curbing EPA regulatory authority on climate change.
That might seem strange given that the bill – approved 255 to 172, with votes falling mostly along party lines – is not expected to become law.
A key reason: No fewer than four measures to curb EPA authority, including one with the same wording as the House bill, failed in the Senate Wednesday, falling far short of the 60 votes needed to prevent a filibuster. Moreover, President Obama has said he would veto such a bill.
So why vote at all? For one thing, the House vote puts on record, in time for the 2012 election cycle, which legislators voted for and against curbing EPA authority on climate-change regulations, analysts say. For another, the bill allows Republicans and a handful of Democrats to demonstrate continued determination to rein in the EPA on climate change.
A spokesman for the petrochemical industry hailed the bill as "an important victory." While many jobs have already been lost under existing regulators, the economic impact would be worse "if EPA's greenhouse gas regulations are allowed to continue unchecked," Charles Drevna, president of the National Petrochemical & Refiners Association, said in a statement.
---