Fraud in gas and oil prices? Obama's new task force will investigate.
A new working group with officials from nine federal agencies will monitor oil and gas markets for fraud, Obama announced Thursday at a town hall meeting in Reno, Nev.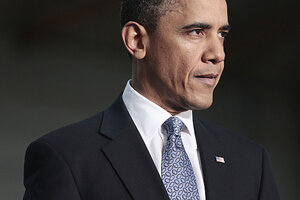 Pablo Martinez Monsivais / AP
As gasoline prices rise nationwide, the Obama administration announced on Thursday the creation of a working group to investigate and prosecute suspected fraud in the energy markets.
"There is no silver bullet that can bring down gas prices right away. But there are a few things we can do," President Obama told a town hall meeting in Reno, Nev.
Attorney General Eric Holder has assembled a team to monitor oil and gas markets for evidence of fraud or illegal manipulation that might affect gas prices, he said. "That includes the role of traders and speculators," Obama added.
"We are going to make sure that no one is taking advantage of the American people for their own short-term gain," he told the group. The comment drew applause.
The action comes as crude oil prices continued a general upward swing and gasoline prices at the pump climbed to a national average of $3.84 a gallon, according to AAA.
That is roughly a dollar per gallon more for regular gasoline than motorists were paying this time last year. The highest recorded price for a gallon of regular gasoline was $4.11 in July 2008, according to AAA.
"Rapidly rising gasoline prices are pinching the pockets of consumers across the country," Attorney General Holder said in Washington.
"We will be vigilant in monitoring the oil and gas markets for any wrongdoing so that consumers can be confident they are not paying higher prices as a result of illegal activity," he said in a statement.
Political analysts warn that rising gasoline prices are a drag not only on the nation's economic recovery but also on public perceptions of the president's job performance. Recent polls show Obama's popularity at or near an all-time low.
The Oil and Gas Fraud Working Group is being organized as an arm of the president's Financial Fraud Enforcement Task Force.
---