Casey Anthony trial: Can duct tape be a murder weapon?
Prosecutors argue that Casey Anthony killed her daughter by suffocating her with duct tape. But an expert said he could not confirm that duct tape had anything to do with the death.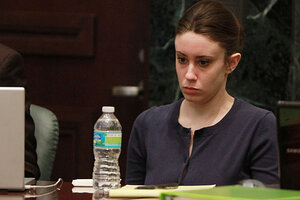 Joe Burbank/AP
A forensic anthropologist testified in an Orlando, Fla., murder trial on Friday that a piece of duct tape found near a toddler's skull was large enough to simultaneously cover the girl's mouth and nose, bolstering a prosecution theory that duct tape was the murder weapon used by Casey Anthony to kill her 2-year-old daughter.
On cross examination, however, the same expert, Michael Warren of the University of Florida, said he did not know whether the duct tape actually caused the toddler's death.
"You don't know if that duct tape had anything to do with the disposal [of the body] or the death," defense attorney Jose Baez asked.
"True," Dr. Warren responded.
The testimony came in the third week of the trial of Ms. Anthony, who is charged with first-degree murder for allegedly killing her daughter, Caylee, and then leaving the body in a wooded area a short walk from the family's home.
During Warren's testimony, prosecutors played a short video that Warren had prepared for the jury. The professor superimposed a photograph of Caylee's face over the image of her recovered skull, and then positioned a proportioned section of duct tape over her face.
The video was played to demonstrate that the duct tape could have been used to suffocate Caylee.
Defense calls video 'highly prejudicial'
Defense attorney Mr. Baez objected to the video presentation before it was played, calling it "highly prejudicial" to his client. He later filed a motion for a mistrial after the jury was dismissed for the day.
---
Follow Stories Like This
Get the Monitor stories you care about delivered to your inbox.